"The Man From KNEW News": Critics are raving about Matt Stewart's new novel, a laugh-out-loud murder mystery set inside the smallest, most inept television station in America.
"It had everything needed to make it into a best seller – humor, a real story and good characters. It was very well put together and was very funny."       
– Reader's Favorite 5-Star Review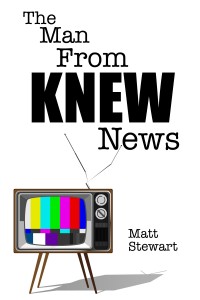 Go behind-the-scenes of a small town's television station and see how a staff of eccentric personalities come together with very few resources to broadcast the nightly news. This humorous look about young, inexperienced journalists will to open your eyes to the realities of the news business and make you laugh out loud at the absurdity of it all.
Recent college grad Tate Thompson has just been hired as the new news director of KNEW News, located in the fictional town of Crepeville, Montana. Only the locals pronounce it Crapville and before long, Tate is wading in a deep pile of it. The news staff includes the anchor who opines on every story, the beautiful bombshell who mispronounces nearly every word, the inexperienced reporter who refuses to wear makeup or do her hair, and the weatherman with an anger management problem. During Tate's first week on the job, as his staff tries to run him out of town, the station's general manager is arrested and charged with murder. Believing his new boss to be innocent, Tate goes to work uncovering the truth – and ends up becoming the ruthless killer's next target.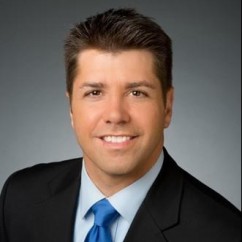 Critics had high praise for Matt Stewart's debut novel, his nonfiction memoir titled, "The Walk-On: Inside Northwestern's Rise From Cellar Dweller To Big Ten Champs". Besides winning top prize in the Reader's Favorite 2012 contest and earning a Five-Star Review, Omaha World-Herald sports reporter Lee Berfknecht wrote, "…this is as honestly-refreshing of an "insider" book as I can recall reading in many years."
"The Man From KNEW News" is the second book by Matt Stewart. This latest addition to your library promises to be a good read and an insightful adventure into the problems journalists face every day along with what it truly takes to put on the nightly news.
Buy your copy today!
To purchase a hard copy for the low price of $11.99 or a digital copy for $8.99, click below:
You can buy BOTH hard copies of "The Man From KNEW News" and "The Walk-On" for a discounted rate of $16.99.
Or you can purchase a hard copy of "The Walk-On: Inside Northwestern's Rise From Cellar Dweller To Big Ten Champ" for $7.99 or a digital copy for $3.99.
What others are saying about "The Walk-On":
"…a tale equal parts perspiration and inspiration…Engrossing…"
                                                                                        – Kirkus Reviews
"…a very brave expression and description of four years in the life of a non-scholarship student athlete…"  
                                     – Gary Barnett, Former NU Football Coach