"…brutally honest about life as a college football player.  Though Matt Stewart did not write this book seeking praise, I think he deserves it. He could have given up but he didn't." 
                              – Readers Favorite 5-Star Review
"…this is as honestly-refreshing of an "insider" book as I can recall reading in many years."
– Lee Barfknecht, Omaha World Herald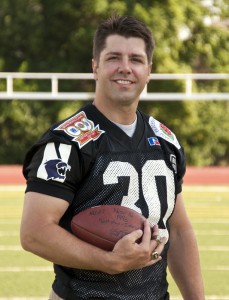 This inspiring true story takes you inside a major college football program from a unique point of view: the walk-on. For decades, Northwestern University finished in the bottom of the Big Ten Conference. But new head coach Gary Barnett brought a winning attitude to Evanston and engineered one of the greatest turnarounds in college sports history, leading Northwestern to two Big Ten championships.
Matt Stewart's experience as a safety mirrored the team.  As a freshman, he walked-on to the team and ended up fifth string on the depth chart. It was a hard road, but Matt never gave up.  With hard work, determination and self-belief, Matt eventually earned a full-ride scholarship and helped Northwestern go from the worst team in the Big Ten to the best.
After four years of working relentlessly to overcome the stigma of being a walk-on, his efforts were rewarded in a remarkable way: a last second interception against Purdue to secure Northwestern's second consecutive Big Ten title!  Take a journey inside the Northwestern locker room as Matt reveals how he transformed his mind and body to become a successful Division I football player. From a gambling scandal to the death of a star player to the Rose Bowl, "The Walk-On" is a riveting account of how a small school captured the nation's attention and brought hope to underdogs everywhere.
"…a tale equal parts perspiration and inspiration…Engrossing…"                                                                                   – Kirkus Reviews
"…a very brave expression and description of four years in the life of a non-scholarship student athlete…"  
                                     – Gary Barnett, Former NU Football Coach
A portion of the proceeds from the book has been donated to the Matt Hartl Scholarship Foundation.  Hartl was a fullback – an amazingly talented athlete – whose football career and life was cut short from Hodgkin's Disease.  Thank you for all your support in my endeavor to document an amazing run at Northwestern University.
Here's what other readers are saying about "The Walk-On":
"I gave it to my son, Nick, an eighth grader working very hard to (hopefully) play varsity high school football and basketball. Long story short, it made a huge impact. He devoured the book, finishing it in a couple days." – Janet S.
"Thoroughly enjoyed the inspiring message and the break down of the games – I had to reread some of the text because I was missing some of the words as I was trying to read to fast. A great book to inspire and to let young people know they aren't alone in the feeling when they go off to college on their own for the first time. Great read." – Randy J.
"I just finished your book. AWESOME!  I just thought your account of your experience was very honest and inspirational. I learned a lot of things I would've never known about the experience of a walk-on. Thanks for a good read!" – Thomas L.
"I thought it was a fantastic account of your time at Northwestern.  Your genuine honesty in the book is quite admirable.  Even the details behind when you played, vs. when you were not asked too.  I found that refreshing.  Congratulations on a great book that contains great messages about life, not just football.   I have already recommended it to several of my folks."   – Steve W.